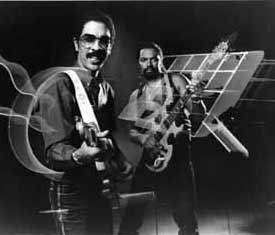 If you've been a funk lover for at least ten years, you will no doubt remember George and Louis as the two brothers who got you out on the dance floor with a string of hits for A&M that included "I'll Be Good To You", "Get The Funk Out My Face", "Ain't We Funkin' Now", "Stomp!" and "Light Up The Night".
Together, The Brothers Johnson sold upwards of 10 million records in 6 years including mega sales on albums like "Look Out For No. 1" and "Right On Time". Starting out as proteges of mega-producer Quincy Jones, the duo frequently toured the States to sell-out auditoriums and it seemed they could do no wrong for the significant fan-following they had created on both sides of the Atlantic.
Then, after the 1982 album "Out Of Control" . . . silence. Rumours abounded: George and Louis, it was said, couldn't stand the sight of each other, let alone consider performing or recording together.
However, neither brother shows any signs of unbridled animosity when seated in A&M's conference room to talk about their return to the label and the new album that they're busy finishing off for release within the next few months.
Instead, they seem at ease wit| other other and ready to set the record straight as to where they've been and what they've been doing.
"Well, it's not true to say we've been idle," they agree. After "Out Of Control", Louis cut one more album for A&M, a gospel-oriented set with his ex-wife, entitled "Passage" and then the duo's contract with the label expired. The last album to do well for the duo was the "Winners" album which they produced in 1980, their first album not to be produced by Quincy Jones who'd mastermind each of their albums from "Look Out For No. 1" to "Light Up The Night".
George and Louis admit that the last album for A&M, "Out Of Control" didn't measure up to their previous efforts, suggesting that maybe the use of various producers didn't result in a coherent musical package.
At that point, Louis signed a deal with Capitol Records and George went to Qwest. More I accurately, says Louis, "I got divorced, bought myself a video store, took time out to make some money with it and, really, I retired from the music bsiness for a while."
George decided he wanted to continue with his musical aspirations and although A&M offered him a solo deal, he
decided to sign with Quincy Jones' label Qwest.
"I actually went in and did several cuts," recalls George, "but the company just put out a 12" single in 1985, "Back Against The Wall" which was all about being held back. And that's kinds how I ended up ? held back because Warners, who distributed Qwest, saw me as fifth priority rather than a first priority."
The company wasn't prepared to do a whole album with him at this point and although they asked for a second single, George didn't feel confident that the company would be able to establish him as a viable solo artist. "So I simply called and asked them to draw up papers for a release from Qwest.
"I spoke with Quincy and let him know how I felt and he understood fully. There's no doubt that I'd always stand by Quincy and respect him because he's contributed so much to both of us right from the start."
Since executive John McClain over at A&M had always told George that there would be a deal waiting for me whenever he was ready, he picked up the phone after his conversation with Quincy. "I told him to get some papers ready. Next thing I knew I had an eight album deal with the label."
Meanwhile, brother Louis had been feeling the musical itch and considered going over to Qwest himself but with the success of Tina Turner at Capitol, he says, he felt that the company would be able to support him in establishing his career as a solo artist.
"I did a whole album ? called "Evolution" ? but I finished it only to find that the company had undergone all these changes, specifically in the black music marketing department, and they really were not equipped to deal with my product. They put out one single, "Kinky" but it wasn't exactly a monster seller."
Apparently, the two brothers ? who live close to each other in an area of Los Angeles whose residents include the likes of Irene Cara and Patrice Rushen ? had stayed in touch even though they weren't working together.
"All we did was stop making records together: we didn't stop talking to one another!" they agree. When George secured his new deal with A&M last year, he called brother Louis and the two agreed that maybe it was time to do an album together. "We asked each other if we really wanted to do that and we both realised that we were ready to get back together and make some great music as a team again."
George and Louis agree that they could have stayed out on the road from '82 till now "just working off the hits we had. We even turned down something like $2 million to do seven shows in Africa ? but we both knew that we needed time away ? and anyway, we didn't want to end up as this group that 'used to be successful'. Now we don't regret it because we're back together musically in a whole new place.
"There's no doubt that we created a musical slot in the world of funk -that no one has filled. So we're back to fill it and this is going to be the best Brothers Johnson album we've ever made."
More than that it is the best album they've done they won't say when talking about their upcoming release, which they are producing together.
Just prior to beginning work on the album, the two brothers kept themselves busy with some other musical rojects. "I went out and did some live work with George Duke in Japan last year, did some songs for Irene Cara's new album, and I've played on a couple of the cuts on the next Michael Jackson album." Could he be bribed to reveal anything about said project? "Well, I don't know which tracks are going to end up on the album" was the polite and diplomatic response!
In addition, the brothers have done some work with the legendary Sly Stone for A&M. "He's always been one of our idols so just being in the studio with him was a real thrill. When we heard him sing we both agreed he still has 'it' and working with him was like giving him a breath of fresh air. There's no doubt that Sly is a living legend so we're really hoping that some of the stuff we did will be released."
The brothers say they have no plans to hit the road again
at least not until they've done a second album.
"Of course we miss that moment when the curtain goes up, that whole excitement leading up to the moment you start playing on stage. But all the travelling and rushing around, well, that's another matter! Nowadays with videos, touring isn't as crucial. So we're gonna take our time before we get out there again doing live shows."
Meanwhile, with their new album imminent, old fans have something to really look forward to and those who haven't heard the magical sound of true funk from The Brothers Johnson are in for a treat.
"Yes", the brothers agree, this is music that's on target for the late Eighties." The album is for sure "right on time", you might say! (DN B&S 1987)